Introduction
Artificial membrane lung (AL) gas exchanges are usually evaluated according to PaO2/FiO2 ratio. in addition, dead space ventilation and shunt fraction can be measured by the same equations used for native lungs [1].
Objectives
To study the effect of AL settings - gas flow (GF), blood flow (BF) and FiO2 - on AL PaO2/FiO2 ratio, dead space and shunt, to suggest how to properly monitor these parameters.
Methods
We performed three different tests:
a) GF changes (from 1 to 10 L/min) in 8 AL at clinically set BF and FiO2;
b) BF changes in 6 AL at constant FiO2 (1) and GF (10 L/min);
c) FiO2 = 1 vs. clinically set FiO2 in 10 AL at clinically set BF and GF.
We performed pre- and post-oxygenator blood gas analysis and measured CO2 at AL exhaust port by sidestream capnography, in order to evaluate PaO2/FiO2 ratio, dead space and shunt.
Results
a) At clinically set BF (4.0 ± 0.9 L/min) and FiO2 (0.87 ± 0.15), PaO2/FiO2 ratio did not correlate with GF, whereas dead space progressively increased with GF (R = 0.7904, p < 0.0001) (Figure 1).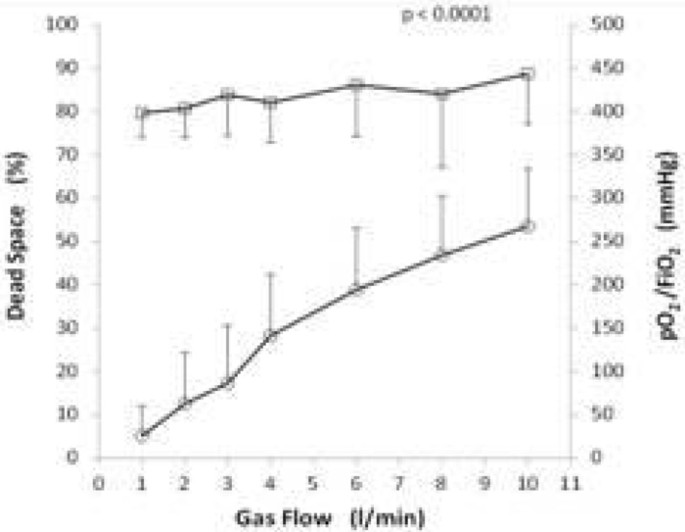 b) Data were collected at basal (3.3 ± 0.7 L/min), increased (4.1 ± 0.8 L/min) and decreased (2.5 ± 0.6 L/min) BF. With the progressive increase of BF, dead space did not change, whereas PaO2/FiO2 ratio decreased and shunt increased (p < 0.001) (Figure 2).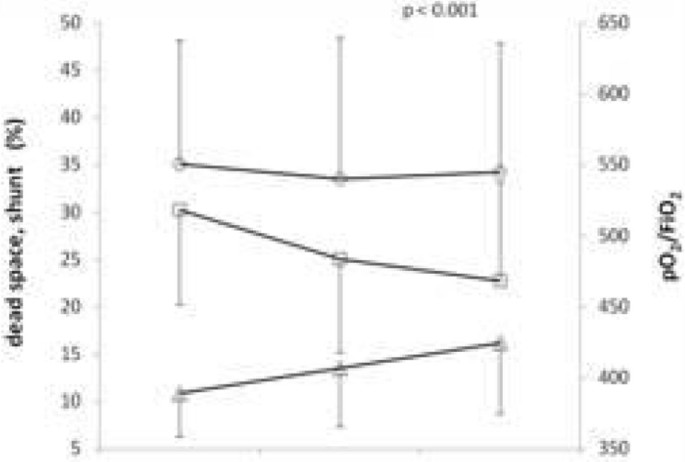 c) At clinically set BF (3.5 ± 1.1 L/min) and GF (5.1 ± 2.4 L/min), the mean difference ± standard deviation of PaO2/FiO2 ratio and shunt obtained at clinically set (0.80 ± 0.20) vs. FiO2 = 1 was -76 ± 109 mmHg and 2.1 ± 11.6%, respectively.
Conclusions
To properly monitor AL CO2 removal and oxygen transfer, evaluations should be performed at constant GF and at FiO2 = 1 and constant BF, respectively.
References
Castagna L, Zanella A, Scaravilli V, Magni F, Deab SA, Introna M, et al: Effects on membrane lung gas exchange of an intermittent high gas flow recruitment maneuver: preliminary data in veno-venous ECMO patients. J Artif Organs. 2015 Mar 26, [Epub ahead of print]
Rights and permissions
Open Access This article is distributed under the terms of the Creative Commons Attribution 4.0 International License (https://creativecommons.org/licenses/by/4.0), which permits use, duplication, adaptation, distribution, and reproduction in any medium or format, as long as you give appropriate credit to the original author(s) and the source, provide a link to the Creative Commons license, and indicate if changes were made.
About this article
Cite this article
Mojoli, F., Bianzina, S., Bianchi, I. et al. Artificial Lung Gas Exchanges Depend On Ecmo Settings. ICMx 3 (Suppl 1), A514 (2015). https://doi.org/10.1186/2197-425X-3-S1-A514
Published:

DOI: https://doi.org/10.1186/2197-425X-3-S1-A514
Keywords
Blood Flow

Dead Space

Exchange Depend

Blood Flow Change

Shunt Fraction