Personalizing mechanical ventilation according to physiologic parameters to stabilize alveoli and minimize ventilator induced lung injury (VILI)
Intensive Care Medicine Experimental
2017
5:8
Received: 7 October 2016
Accepted: 26 January 2017
Published: 2 February 2017
Abstract
It has been shown that mechanical ventilation in patients with, or at high-risk for, the development of acute respiratory distress syndrome (ARDS) can be a double-edged sword. If the mechanical breath is improperly set, it can amplify the lung injury associated with ARDS, causing a secondary ventilator-induced lung injury (VILI). Conversely, the mechanical breath can be adjusted to minimize VILI, which can reduce ARDS mortality. The current standard of care ventilation strategy to minimize VILI attempts to reduce alveolar over-distension and recruitment-derecruitment (R/D) by lowering tidal volume (Vt) to 6 cc/kg combined with adjusting positive-end expiratory pressure (PEEP) based on a sliding scale directed by changes in oxygenation. Thus, Vt is often but not always set as a "one-size-fits-all" approach and although PEEP is often set arbitrarily at 5 cmH2O, it may be personalized according to changes in a physiologic parameter, most often to oxygenation. However, there is evidence that oxygenation as a method to optimize PEEP is not congruent with the PEEP levels necessary to maintain an open and stable lung. Thus, optimal PEEP might not be personalized to the lung pathology of an individual patient using oxygenation as the physiologic feedback system. Multiple methods of personalizing PEEP have been tested and include dead space, lung compliance, lung stress and strain, ventilation patterns using computed tomography (CT) or electrical impedance tomography (EIT), inflection points on the pressure/volume curve (P/V), and the slope of the expiratory flow curve using airway pressure release ventilation (APRV). Although many studies have shown that personalizing PEEP is possible, there is no consensus as to the optimal technique. This review will assess various methods used to personalize PEEP, directed by physiologic parameters, necessary to adaptively adjust ventilator settings with progressive changes in lung pathophysiology.
Keywords
ARDSVILIPersonalizing mechanical ventilationOpen lung ventilationPEEP
Review
Improvements in protective mechanical ventilation strategies have reduced mortality secondary to the acute respiratory distress syndrome (ARDS) from almost certain death (~70%) to the current mortality rate of ~40% [1] in the moderate to severe form of the disease [2]. Although some studies have shown a reduction in ARDS mortality [3], a recent review of the literature concluded that ARDS mortality rate remains unchanged and has not been reduced for almost 15 years [1, 4]. Thus, research emphasis has shifted from treating to preventing ARDS using preemptive ventilator strategies applied to the normal lung in patients at high-risk [5, 6]. Preemptive ventilator strategies, although not definitive, have been shown to reduce the complications of mechanically ventilated patients with the believed mechanism to be maintaining an open, homogeneously ventilated lung, and minimizing repetitive alveolar collapse and expansion (RACE) with each breath. However, existing preemptive strategies use the same "one-size-fits-all" approach that is currently used to treat established ARDS [7] and have not yet shown a clear reduction in ARDS incidence. Many physicians do not strictly stay with the recommended 6 cc/kg for all patients but make adjustment using their clinical knowledge to adjust Vt to better match the need of the patient. Moreover, PEEP and FiO2 are adjusted in reaction to changes in oxygenation, which has been shown not to correlate well with pathologic changes in lung mechanics that are known to cause ventilator-induced lung injury (VILI) [8, 9].
Optimization of the protective mechanical breath could be achieved if a closed-loop feedback system existed, in which the physician analyzes changes in lung physiology and uses this as feedback to adjust ventilator settings, with the goal to maintain an open and stable lung regardless of the degree of lung pathology (Fig.
1
) [
10
,
11
]. Since both alveolar opening and collapse time constants vary depending on lung injury severity and evolve as the lung pathology improves or deteriorates, ventilator settings must be constantly adjusted to fit the specific needs of the individual [
12
–
19
]. The components that comprise the Mechanical Breath Profile (MB
P
) (i.e., airway pressures, flows, volumes, rates, and the duration that they are applied during each breath) have been targeted for personalization [
20
–
22
], but personalized PEEP has been the most studied. Multiple studies have reviewed or tested methods to apply PEEP using the pathology of the lung [
23
–
30
]. However, no consensus has been reached on what that optimal strategy is that can lead to the personalization of PEEP in the protective mechanical breath.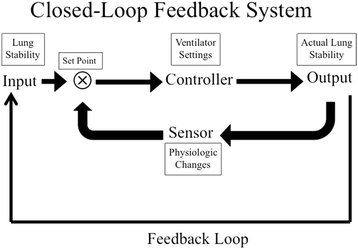 In order to determine that strategy, the mechanism by which positive pressure ventilation injures lung tissue must first be understood. Thus, this review will discuss the current postulated mechanisms of VILI at the alveolar level. Using our understanding of the dynamic pathophysiology that occurs in the microenvironment (i.e., alveoli and alveolar ducts), we can form hypotheses on the optimal method of personalizing PEEP necessary to prevent progressive acute lung injury (ALI). Setting the ideal PEEP to stabilize the lung is an important parameter in reducing VILI and will be the focus of this review, it must be remembered that the entire MBP must be adjusted properly to maximize lung protection.
Mechanisms of VILI in the microenvironment—alveoli and alveolar ducts
Although there is still debate [
31
], there is a great deal of literature supporting three mechanisms by which alveoli and alveolar ducts are injured during mechanical ventilation: (1) over-distension (OD) [
32
]; 2) dynamic recruitment and derecruitment (R/D) causing a significant dynamic strain with each breath; and (3) stress-concentration (S-C) that occurs between open and collapse or edema-filled alveoli (Fig.
2
) [
33
,
34
]. Tissue damage, secondary to these mechanical injuries, results in a secondary inflammatory injury known as biotrauma [
35
], which exacerbates the primary mechanical injury. However, it remains unknown which of these three mechanisms plays the greatest role in VILI pathology. This critical information is needed to determine how PEEP should be applied when attempting to block the most injurious VILI component(s). The following is a review on the relative importance of each of the above VILI mechanisms.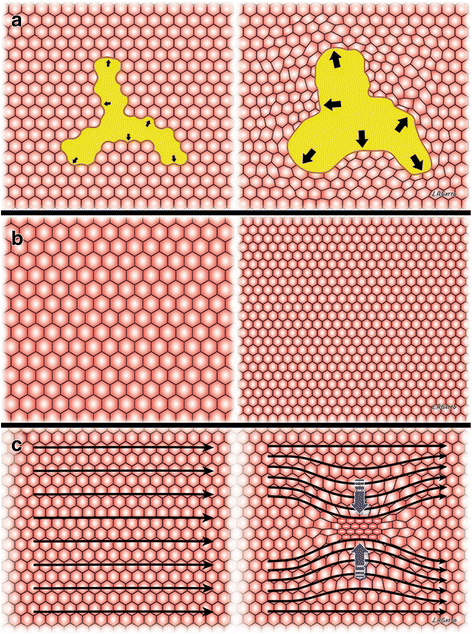 Alveolar over-distension (OD)
It is well known that ARDS causes a heterogeneous injury with collapsed or edema-filled lung adjacent to normal lung tissue. Ever since the publication of the clinical trial showing that low tidal volume (Vt) reduced ARDS mortality, the presumed mechanism for this protection was a reduction in over-distension of the normal lung tissue [7]. Gattinoni et al. reinforced this hypothesis using the term 'Baby Lung' for the remaining normal lung tissue in patients with ARDS. They hypothesized that the majority of the Vt would be delivered to the more compliant normal [baby] lung, thereby causing tissue injury by over-distension [32]. Most of the data supporting alveolar OD as a mechanism of VILI did not directly measure the change in alveolar size but rather the change in lung tissue density measured using computerized tomography (CT) [36]. Using CT, lung parenchyma is classified as a gas/tissue ratio in four categories: (1) not-inflated; (2) poorly inflated; (3) well-inflated; and (4) overinflated [33, 36]. Lung areas in the overinflated 'Baby Lung' category are hypothesized to be the tissue damaged during tidal ventilation, thus, reducing Vt would reduce tissue stretch and VILI and is believed to be the mechanism for the reduced mortality using low Vt ventilation [7].
However, a great deal of literature supports the concept that over-distension in normal lung tissue (i.e., Baby Lung) will not cause the histopathology typical of VILI, although it may cause tears in airways leading to a pneumothorax. Direct assessment of alveolar size change, using multiple techniques, have shown that alveoli do not expand significantly, as would a rubber balloon, with high volumes or pressures [37, 38]. Others have shown heterogeneous changes in individual alveolar size and shape with lung inflation but also did not show balloon-like overexpansion [39]. The site of over-distension and potential rupture may be the alveolar duct, rather than the individual alveoli (Fig. 2a) [40]. Early work by Dreyfuss et al. demonstrated that high lung volume and airway pressure sufficient to cause over-distension, induced lung damage but did not cause injury as long as dynamic alveolar strain secondary to alveolar recruitment/derecruitment (R/D) was prevented with adequate PEEP [41]. Similarly, Seah et al. showed that over-distension caused by high Vt did not cause lung histopathology unless it was combined with high dynamic strain when PEEP is set at zero [42, 43]. Using a novel method of polarized gas inhalation, which can identify the dynamic change in structures as small as alveoli and alveolar ducts, it was shown that increasing lung volume with PEEP actually decreased alveolar size, while increasing alveolar number [44]. Thus, the 'hyper-inflated' lung tissue seen on CT might not be caused by over-distended alveoli but rather by an increase in the number of smaller, newly recruited alveoli. In summary, the role of gross alveolar over-distension (i.e., balloon-like overexpansion) as the primary mechanism of VILI is still in question with many studies demonstrating that dynamic alveolar strain (i.e., R/D) and not OD is the primary mechanism of VILI [45, 46]. These studies are further supported in the clinically meta-analysis by Amato, which demonstrated ARDS outcome was associated with driving pressure or dynamic tidal R/D rather than static end inspiratory tidal volume/distension at given plateau pressure [22].
Alveolar recruitment/derecruitment (R/D)
The ability to adjust mechanical ventilator settings necessary to stabilize the lung during expiration is seen as a crucial method of reducing R/D and thus lung damage. Most studies have shown that a high static airway pressure (OD) with minimal dynamic strain (i.e., alveolar collapse and reopening) will not cause VILI [41, 42, 47, 48]. Direct measurement of alveolar R/D using in vivo microscopy demonstrated that stabilizing alveoli with adequate PEEP significantly reduced ALI [49]. The pathologic role of R/D was best evidenced in studies in which animals were ventilated at a high peak lung volume (high static strain) associated with lung over-distension with and without high dynamic strain (R/D). High static strain did not cause the histopathology and pulmonary edema characteristic of ARDS unless combined with high dynamic strain. Increasing Vt and reducing PEEP were used to cause high dynamic strain (Fig. 2b), while reducing Vt and increasing PEEP were used to cause low dynamic strain [47, 48]. Combined, these studies further demonstrate that dynamic strain caused by alveolar R/D, and not alveolar over-distension as was originally thought, is the main mechanism of VILI, which drives progressive ALI. Thus, if alveolar collapse during expiration can be prevented with properly adjusted PEEP, VILI should be dramatically reduced.
Alveolar stress concentrators (SC)
Recent work has identified another VILI mechanism, which occurs during heterogeneous ventilation when open alveoli are adjacent to collapsed or edema filled alveoli, which sets up stress-concentrators generating excessive strain across alveolar walls (Fig. 2c) [33, 34]. Retamal et al. demonstrated, in a novel heterogeneous rat lung injury model, that injurious stresses occur at the interface between collapsed and expanded [34]. They hypothesized that a local non-lobar atelectasis would act as a SC significantly exacerbating tissue damage in these areas. Their data supported this hypothesis, demonstrating increased inflammation and structural injury in the healthy tissue that was adjacent to the collapsed tissue during mechanical ventilation [34]. Cressoni et al. hypothesized that the mechanism of VILI in lungs with ALI was due to the presence of local inhomogeneities acting as SC [33]. The presence of local inhomogeneities was identified using CT in patients with ARDS. Increased lung inhomogeneity was correlated with the severity of ARDS and was the only variable independently associated with mortality. Increasing PEEP reduced lung inhomogeneity. Borges et al. showed increased inflammation in the lung tissue associated with lung inhomogeneities using combined positron emission tomography (PET) and CT, further supporting these studies [50]. Wellman et al. further supported the work of Borges and demonstrated that regional tidal lung strain causes local inflammation during mechanical ventilation in a sheep ARDS model [51].
The pathogenesis of ARDS can start when loss of surfactant function, caused by ventilation (either spontaneous or mechanical ventilation), leads to collapsed alveoli that act as SC in the tissue surrounding them [52, 53]. Thus, SC may be the first step in ALI pathogenesis that if unchecked will result in ARDS. It has been shown that VILI can result even with low Vt ventilation [54, 55]. It was hypothesized that the mechanism of low Vt-induced VILI was lung collapse secondary to the small ventilation volumes, resulting in heterogeneous alveolar ventilation causing SC and excessive local strain [56–58]. This hypothesis was supported by Wellman et al., who showed in early stages of ALI that: (1) high regional lung strain caused by SC may be present even when global strain is not in the pathologic range; (2) local inflammation has a positive linear relationship with tidal strain; (3) systemic inflammation (endotoxin infusion) exacerbates this inflammation; and (4) homogenizing regional tidal strain (reducing stress concentrators) by increasing PEEP and reducing Vt reduces local inflammation [51].
In summary, emerging data strongly suggests that the presence of SC is a major mechanism of VILI. The evidence also supports the hypothesis that dynamic strain caused by alveolar R/D significantly contributes to VILI pathophysiology, whereas high static strain (alveolar OD) is a less important VILI mechanism. Thus, this review will focus on how PEEP can be personalized using physiologic signals to reduce stress-concentrators (open the lung) and/or prevent dynamic strain (stabilize the lung).
Methods and efficacy of personalizing PEEP
Conclusions
It is clear that a high level of dynamic strain caused by alveolar R/D is a major mechanism of lung tissue damage associated with VILI. Application of PEEP is currently the primary strategy by which to minimize dynamic strain for established ARDS. In addition, early PEEP application has been effective at reducing the complication associated with mechanical ventilation in both animal and human studies. It is also clear that in order for PEEP to be effective, it must be personalized to the specific pathology of each patient's lung. The continued high mortality rate of ARDS supports the hypothesis that the current PEEP strategies are not always effective [1]. Multiple methods to personalize PEEP have been tested and have been shown to be capable of stabilizing the lung. A large body of literature supports the use of RMs to open the lung, prior to the application of PEEP, which is set based on physiologic feedback. Recent clinical studies are attempting to personalize PEEP following RMs in humans [67, 115]. The main problem with the use of RMs is that they cannot be given very often, due to potential serious side effects, and the acutely injured lung is constantly changing. Thus, if lung pathology increases following the initial PEEP setting, lung instability would go unrecognized, causing additional VILI-induced lung damage. A novel method of personalizing PEEP is the using of expiratory flow curve during APRV. The advantage is that a RM is not required so that adjustments in expiratory duration are adaptive with progressive changes in acute lung injury, regardless if these changes are for the better or worse. Also, this method does not directly set PEEP but rather uses a short expiratory duration to generate intrinsic PEEP, which is used as a tool to stabilize the lung. Both animal studies and a human statistical analysis suggest that adjusting the release time on a breath-to-breath basis may be the optimal mechanism to adaptively personalize PEEP.
Abbreviations
ALI:

Acute lung injury
APRV:

Airway pressure release ventilation
ARDS:

Acute respiratory distress syndrome
CPAP:

Continuous positive airway pressure
CT:

Computed tomography
EEF/PEF:

End expiratory flow to peak expiratory flow ratio
EIT:

Electrical impedance tomography
FRC:

Functional residual capacity
OD:

Over-distension
P/V:

Pressure/volume
P-APRV:

Personalized airway pressure release ventilation
PEEP:

Positive-end expiratory pressure
Pes:

Esophageal pressure
P FLEX :

Lower inflection point
Pmci,I:

Maximal compliance increase
Ppl:

Pleural pressure
Ptp:

Transpulmonary pressure
R/D:

Recruitment and derecruitment
RACE:

Rapid alveolar collapse and expansion
RM:

Recruitment maneuver
S-C:

Stress concentration
SC:

Stress concentrators
SlEFC :

Slope of the expiratory flow curve
VCap:

Volumetric capnography
VILI:

Ventilator-induced lung injury
Vt:

Tidal volume
Declarations
Funding
Salary support for JS is from NIH R01 HL131143.
Authors' contributions
GFN drafted the manuscript. PLA, NMH, JS, and LAG critically revised the manuscript. GFN and LAG helped to conceive the manuscript. All authors read and approved the final manuscript.
Competing interests
PLA, GFN, and NMH have presented and received honoraria and/or travel reimbursement at event(s) sponsored by Dräger Medical Systems, Inc., outside of the published work. PLA, GFN, NMH, and LAG have lectured for Intensive Care Online Network, Inc. (ICON). NMH is the founder of ICON, of which PLA is an employee. NMH holds patents on a method of initiating, managing, and/or weaning airway pressure release ventilation, as well as, controlling a ventilator in accordance with the same, but these patents are not commercialized, licensed nor royalty-producing. The authors maintain that industry had no role in the design and conduct of the study; the collection, management, analysis, or interpretation of the data; nor the preparation, review, or approval of the manuscript.
Open AccessThis article is distributed under the terms of the Creative Commons Attribution 4.0 International License (http://creativecommons.org/licenses/by/4.0/), which permits unrestricted use, distribution, and reproduction in any medium, provided you give appropriate credit to the original author(s) and the source, provide a link to the Creative Commons license, and indicate if changes were made.
Authors' Affiliations
(1)
Department of Surgery, SUNY Upstate Medical University, Syracuse, USA
(2)
Intensive Care Online (ICON), Baltimore, USA
(3)
Department of Trauma Critical Care Medicine, R Adams Cowley Shock Trauma Center, University of Maryland, Baltimore, USA
(4)
Biological Sciences Department, Biological Sciences Department, SUNY Cortland, Cortland, USA
(5)
Cardiopulmonary Critical Care Lab, Department of Surgery, Upstate Medical University, Syracuse, USA