Assessment of immune organ dysfunction in critical illness: utility of innate immune response markers
Intensive Care Medicine Experimental
2017
5:49
Received: 3 August 2017
Accepted: 12 October 2017
Published: 23 October 2017
Abstract
In critically ill patients, organ dysfunctions are routinely assessed, monitored, and treated. Mounting data show that substantial critical illness-induced changes in the immune system can be observed in most ICU patients and that not only "hyper-inflammation" but also persistence of an anti-inflammatory phenotype (as in sepsis-associated immunosuppression) is associated with increased morbidity and mortality. Despite common perception, changes in functional immunity cannot be adequately assessed by routine inflammatory biomarkers such as C-reactive protein, procalcitonin, or numerical analysis of leukocyte (sub)-counts. Cytokines appear also not suited due to their short half-life and pleiotropy, their unexclusive origin from immune cells, and their potential to undergo antagonization by circulating inactivating molecules. Thus, beyond leukocyte quantification and use of routine biomarkers, direct assessment of immune cell function seems required to characterize the immune systems' status. This may include determination of, e.g., ex vivo cellular cytokine release, phagocytosis activity, and/or antigen-presenting capacity. In this regard, standardized flow-cytometric assessment of the major histocompatibility-II complex human leukocyte antigen (-D related) (HLA-DR) has gained particular interest. Monocytic HLA-DR (mHLA-DR) controls the interplay between innate and adaptive immunity and may serve as a "global" biomarker of injury-associated immunosuppression, and its decreased expression is associated with adverse clinical outcomes (e.g., secondary infection risk, mortality). Importantly, recent data demonstrate that injury-associated immunosuppression can be reversed—opening up new therapeutic avenues in affected patients. Here we discuss the potential scientific and clinical value of assessment of functional immunity with a focus on monocytes/macrophages and review the current state of knowledge and potential perspectives for affected critically ill patients.
Keywords
SepsisSepsis-associated immunosuppressionBiomarkersCritical illnessImmune functionImmunomodulationImmune modulationImmune suppressionHLA-DR expressionmHLA-DR
Review
The immune system is an essential organ in higher life forms, and its dysfunction or "failure" may be life-threatening. In humans, the immune system is ubiquitously distributed within all organs and consists of humoral and cellular components organized in highly complex dynamic social network architecture-like structures [1]. Key functions of the immune system embrace injury control in inflammation/infection and tumor recognition/surveillance [1]. Despite its paramount importance, however, the immune system or "immune organ" is mostly overlooked on intensive care units (ICU) today [2–7]. This may at least partly be due to the fact that its functional status cannot be adequately assessed by use of routine biomarkers such as C-reactive protein, procalcitonin, or numerical distribution of leukocyte (sub)-sets. Nevertheless, numerical assessment of leukocyte (sub-)populations may provide important additional information, e.g., when considerably deranged [8–10].
The typical initial immune system response to critical illness consists of systemic and local release of inflammatory mediators and cytokines and activation of specific immune and other cells. This may lead to distinct phenotype changes in immune cells [
4
,
6
,
11
,
12
]. The traditional understanding was that uncontrolled release of pro-inflammatory mediators (e.g., interleukin (IL)-1, tumor necrosis factor (TNF)-α) would determine adverse clinical outcomes in patients with septic shock [
4
,
11
]. Consequently, anti-inflammatory such as anti-TNF-α or anti-lipopolysaccharide (LPS) strategies were then tested in large-scale clinical trials. However, respective trial results returned negative or indicated increased intervention-related mortality. This highlighted that an anti-inflammatory approach would not provide general benefits for larger populations of patients with sepsis/septic shock [
2
–
5
,
7
,
12
]. Thereafter, immune status characterization in larger patient cohorts using novel biomarkers allowed for a more profound understanding. When looking at an individuals' immune response, a high inter-individual variance and highly dynamic changes can be observed over time (Figs.
1
and
2
) [
4
]. Today, it is well established that many critically ill patients either show signs of co-existing inflammatory and counter-regulatory anti-inflammatory response early in critical illness [
13
,
14
] or will undergo transition from early pro- to later anti-inflammatory phenotypes (Fig.
2
) [
2
,
4
,
7
,
11
,
12
]. The "net effect" (i.e., the resulting phenotype) of such profound anti-inflammation was referred to as "sepsis- (or injury-) associated immunosuppression (SAI/IAI)" and embraces diminished release of pro-inflammatory mediators, reduced phagocytosis, and reduced expression of cellular surface receptors involved in antigen-presenting activity (e.g., major histocompatibility complex (MHC) class II) (Fig.
3
) [
4
,
7
,
11
,
12
]. This may be associated with enhanced immunological tolerance, increased immune cell apoptosis, and altered gene expression profiles [
6
,
11
]. Interestingly, recent data show that respective changes are not exclusive to circulating immune cells and that comparable anti-inflammatory phenotypes can be found, e.g., in splenic or lung tissue and other solid organs [
11
].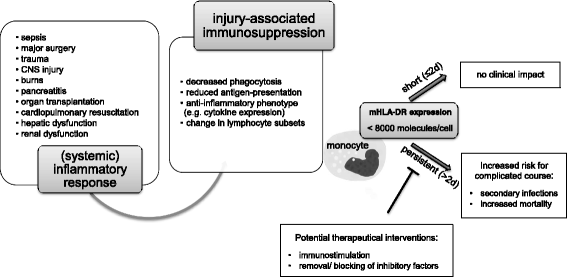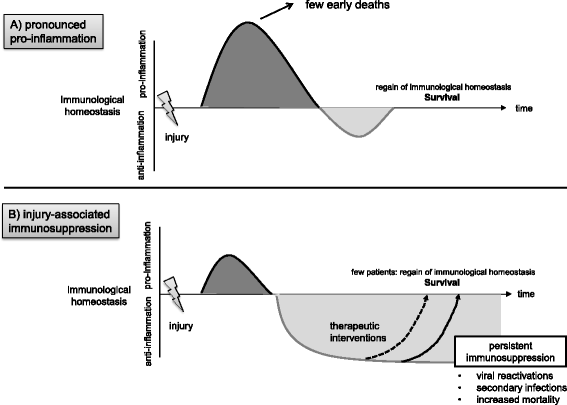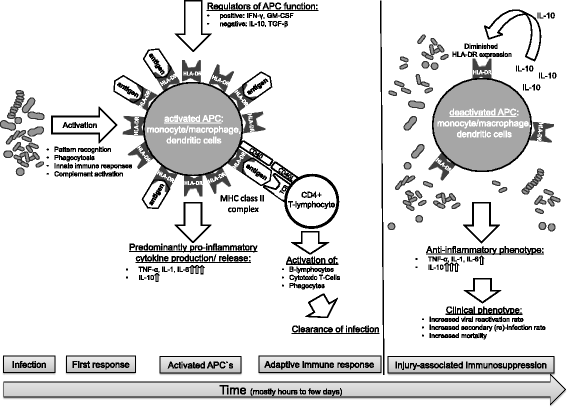 From a clinical perspective, it seems pivotal to distinguish temporary from persisting immunosuppression (Figs. 2 and 3). Data show that patients failing to recover from injury- (or sepsis-) associated immunosuppression are at increased risk for (secondary) infections or non-survival [4, 6, 11, 15] (Fig. 2). This affects patients with post cardio-surgical conditions [16], trauma [17], burns [18], pancreatitis [19, 20], solid organ transplantation [21], hepatic [22] or renal injury [23], stroke [24], myocardial infarction/heart failure, and cardiac arrest [25–28], as well as sepsis [15]. Recent technological advances now allow for better recognition/monitoring of SAI/IAI—thus opening up new avenues for the recognition, monitoring, and treatment of such functional immune "organ failure" [7].
Immunological markers in critical illness
For identification of patients at risk for SAI/IAI and associated complications, it seems important to briefly summarize key immunologic responses to injury (Fig. 3). The first response to injury or infection typically consists in local activation of humoral factors (e.g., complement factors) followed by antigen-presenting cells (APCs) that are at the innate-adaptive interface (i.e., monocytes/macrophages or dendritic cells) [6, 29]. When activated, APCs release cytokines (e.g., TNF-α, IL-1, IL-6) and other mediators that attract and activate even more APCs and neutrophils, enhance phagocytosis, and stimulate adaptive immune cells after migration to draining lymph nodes (e.g., antigen-loaded dendritic cells) [6, 29]. Following phagocytosis, APC-derived antigen presentation occurs via upregulation of class II transactivator (CIITA) and re-localization of MHC class II molecules from intracellular storages [29, 30]. Enhanced surface expression of antigen-loaded human leukocyte antigen (-D related) (HLA-DR; a key MHC class II molecule) on monocytes/macrophages and dendritic cells then induces a T cell response via binding to T cell receptors (TCR) and co-stimulatory molecules (e.g., CD86-CD28 and CD40-CD40L) (Fig. 3). Over time, a "counter-regulatory" response may occur in monocytes/macrophages and dendritic cells with increased production of anti-inflammatory cytokines (e.g., IL-10) [31, 32]. As a consequence, monocyte and dendritic cell deactivation with diminished expression of both HLA-DR and co-stimulatory molecules can be observed as an indicator of reduced phagocytosis, antigen presentation, and diminished induction of adaptive immune responses. Furthermore, expansion of myeloid-derived suppressor cells (MDSC), an immature population of myeloid cells with immunosuppressive functions first described in cancer, was also demonstrated in patients with sepsis [33, 34]. Very recently, MDSC were shown associated with prolonged immunosuppression, in particular with diminished T cell functions and development of nosocomial infections in patients with sepsis [35, 36]. In addition, critically ill patients commonly show marked apoptosis-induced lymphopenia and impaired lymphocyte function which contribute to sepsis- and injury-associated immunosuppression as recently reviewed elsewhere [37].
Flow-cytometric assessment of mHLA-DR expression
Monocytic HLA-DR expression is performed via fluorescence-activated cell sorting (FACS) from EDTA samples [
51
,
52
]. FACS allows for simultaneous enumeration and assessment of several surface and intracellular antigens on specific immune cell subsets following staining with fluorochrome-labeled antibodies (Fig.
4
). In 2005, the Quantibrite™ HLA-DR assay was demonstrated as the first standardized method for flow-cytometric mHLA-DR assessment with low inter-laboratory variability (coefficient of variation (CV) 15%, inter-laboratory CV < 4%) enabling comparison of data sets collected in multicenter studies [
51
]. Previous methods reporting percentages of HLA-DR positive cells (%HLA-DR) or mean fluorescence intensities (MFI) lacked an internationally accepted analytical standard and precluded between-center comparison of results [
51
]. In contrast, the Quantibrite™-HLA-DR assay harnesses calibration beads and a specifically formulated antibody-fluorochrome conjugate which allows the measurement of bound HLA-DR antibodies per cell (mAb/cell) independently from the combination of flow cytometer or instrument settings used in different laboratories [
51
]. Despite recent progress in standardization, flow cytometry still requires specialized lab equipment and staff, standardized analytical protocols, and timely handling of samples (maximum of 4–6 h in standard EDTA-tubes at room temperature for mHLA-DR) [
51
]. Delayed assessment of samples may induce activation of monocytes resulting in artificially increased mHLA-DR expression. Storage of EDTA-anticoagulated whole blood on ice or in a refrigerator or use of cell preservative containing tubes such as Cyto-Chex®-BCT increase analytic stability for mHLA-DR ([
51
] and Meisel et al., unpublished data). However, Cyto-Chex®-BCT tubes are expensive and not commonly available. Stained and fixed samples can be stored for at least 52 h before analysis [
51
]. Thus, mHLA-DR assessment as a biomarker for immune function usually requires establishing of the method in nearby hospital laboratories [
7
,
52
]. In addition, blood samples are usually processed during standard laboratory opening hours and not 24/7 [
51
,
52
]. Recently, an automated table cytometer was investigated as potential point-of-care tool for bedside mHLA-DR assessment which may be an important step to improve the availability of immune monitoring tools for ICU clinicians [
53
]. Further, quantification of HLA-DR expression and of other markers of innate and adaptive immune (dys)-regulation by real-time or digital PCR may help to overcome some of the above mentioned limitations of flow-cytometric mHLA-DR analysis and thus improve identification of patients with SAI/IAI [
54
–
57
]. However, the utility of theses assays needs further investigation.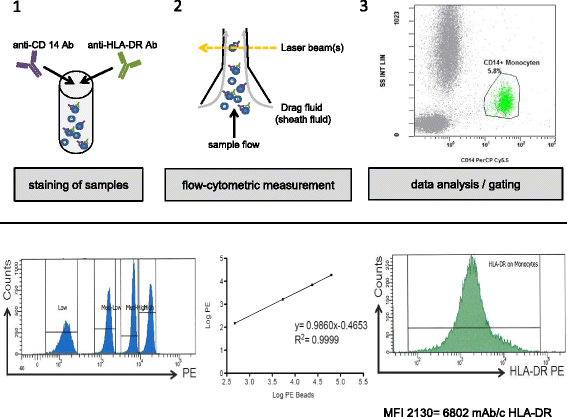 Threshold levels
Using the earlier non-standardized method for mHLA-DR assessment as percent positive monocytes, most investigators (including our group) have established a cut-off at 30% HLA-DR-positive monocytes for severe injury-associated immunosuppression (earlier referred to as "immunoparalysis") [51]. A recent comparison of the conventional method with the standardized quantitative assay for mHLA-DR (given in mAb/cell) performed by us revealed that the (earlier) cut-off value of 30% HLA-DR positive monocytes corresponds to about 5000 mAb/cell and 45% mHLA-DR to about 8000 mAb/cell [51]. The range between 30 and 45% HLA-DR positive monocytes was termed "borderline immunosuppression." Thus, a cut-off value of 8000 mAb/cell may be used to indicate SAI/IAI and was used in subsequent interventional clinical trials [58]. Importantly, not single diminished values of mHLA-DR should be regarded as clinically relevant but rather the persistence of low mHLA-DR levels indicating failure for recovery [4, 7, 12, 15].
Monocytic HLA-DR expression in specific diseases
Injury-associated immunosuppression: reversal by therapeutic interventions
In the light of the potential of mHLA-DR for immune monitoring, several interventional biomarker-guided therapeutic strategies were tested in clinical trials. Respective approaches included extracorporeal removal of inhibiting factors via selective immunoadsorption [
84
], immunostimulation using interferon gamma (IFN-γ) [
32
] or stimulation with granulocyte-macrophage-colony-stimulating factor (GM-CSF) [
58
,
85
,
86
]. Potential additional approaches embrace interleukin 7 (IL-7) or anti-PD ligand 1 molecules (anti PD-L1). Future potential immunomodulatory approaches in sepsis are given in Fig.
5
.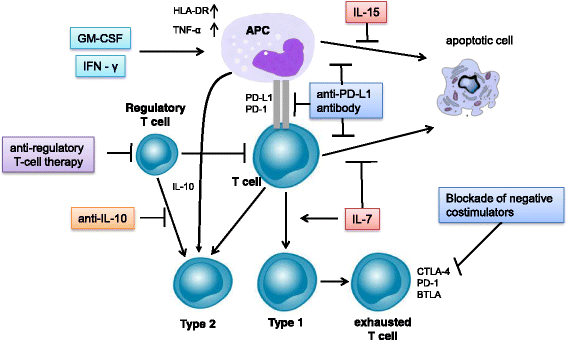 Interferon gamma (IFN-γ)
Stimulation of IFN-γ receptors, which are ubiquitously expressed, results in activation of numerous pro-inflammatory pathways. In a landmark trial, Doecke et al. showed that IFN-γ immunostimulation restores mHLA-DR expression in patients with sepsis-associated immunosuppression (SAI) [32]. Clearance of infection may be enhanced by IFN-γ use in adult patients with invasive fungal sepsis [87], and in a randomized double-blind clinical trial in trauma, a decreased incidence for ventilator-associated pneumonia was observed in patients with mHLA-DR < 30% receiving inhaled IFN-γ [74]. IFN-γ treatment was shown to reverse SAI resulting in higher TNF-α-, decreased IL-10, and increased mHLA-DR levels indicating reversal of the SAI phenotype [44]. Whether administration of IFN-γ in IAI results in lower mortality of affected patients remains unclear and larger investigations are needed but, importantly, major side effects of IFN-γ-induced immunostimulation were not observed [32, 74].
Granulocyte-macrophage-colony-stimulating factor (GM-CSF)
In a randomized controlled double-blind placebo-controlled trial in 38 patients with sepsis, we could demonstrate reversal of persisting SAI following one treatment of subcutaneous GM-CSF [58]. In addition to reversal of SAI (as defined by mHLA-DR expression > 15,000 mAb/cell), we observed improvements in relevant patient-centered outcomes such as shortened time of mechanical ventilation [58]. The finding that GM-CSF reverses SAI is supported by other groups [86]. Whether clinical endpoints such as secondary infection rates are affected by therapeutical application of GM-CSF is under research (NCT02361528).However, smaller studies showed promising results with lower infection rates [88] or shorter duration of infection in immunosuppressed critically ill patients treated with GM-CSF. In another randomized-controlled trial in patients with sepsis and severe respiratory dysfunction, oxygenation significantly improved in patients receiving GM-CSF [89]. In newborns, we could recently demonstrate that reduced mHLA-DR expression may reflect immunological immaturity in very early newborns [90] and a meta-analysis on GM-CSF therapy indicated increased survival rates in very-low pre-term infants (< 2000 g) and infants with neutropenia when treated with GM-CSF [91]. Importantly, none of the clinical studies reported relevant side effects of GM-CSF treatment.
Conclusions
Critical illness may often induce persisting injury-associated immunosuppression with adverse effects on relevant patient-centered outcomes. However, despite the key task of ICU physicians to detect, monitor, and follow up on organ dysfunctions, functional failure of the "immune organ" seems currently mostly overlooked as it cannot be adequately assessed via use of routine biomarkers such as numerical distribution of leukocyte (sub)counts or systemic levels of soluble markers such as cytokines, procalcitonin, or acute phase proteins. Importantly, quantitative assessment of a given cell population does not per se allow to conclude on its functional status.
Today, flow-cytometric assessment of the mHLA-DR expression may serve as a standardized "global" biomarker to evaluate immune function. Persisting reduced mHLA-DR expression reflects a distinct immunological phenotype that is associated with adverse clinical outcomes. Nevertheless, mHLA-DR assessment currently requires specialized laboratories that may not be available in all institutions. Following demonstration of immunological efficiency, biomarker-guided immunological interventions for injury-associated immunosuppression should now be performed in adequately characterized populations using relevant patient-centered clinical outcomes (e.g., mortality). We postulate that in the future of intensive care, personalized medicine that considers the individual immune functionality will be needed to significantly improve the outcome of affected patients.
Abbreviations
APC:

Antigen-presenting cell
CD:

Cluster of differentiation
CIITA:

Class II transcriptor activator
CMV:

Cytomegaly virus
CNS:

Central nervous system
CV:

Coefficient of variation
EDTA:

Ethylene-diamin-tetra-acetat
ELISA:

Enzyme-linked immunosorbent assay
HLA(-DR):

Human leukocyte antigen (-D related)
IAI:

Injury-associated immunosuppression
IFN(-γ):

Interferon (gamma)
IL:

Interleukin
LPS:

Lipopolysaccharide
MHC:

Major histocompatibility complex
mHLA-DR:

Monocytic HLA-DR
PCR:

Polymerase chain reaction
PD:

Programmed death
SAI:

Sepsis-associated immunosuppression
TNF (-α):

Tumor necrosis factor (alpha)
Declarations
Acknowledgements
Not applicable.
Authors' contributions
All authors (CAP, CM, MF, JCS) wrote the article and revised it for important intellectual content. All authors read and approved the final manuscript.
Ethics approval and consent to participate
Not applicable.
Competing interests
The authors declare that they have no competing interests.
Publisher's Note
Springer Nature remains neutral with regard to jurisdictional claims in published maps and institutional affiliations.
Open AccessThis article is distributed under the terms of the Creative Commons Attribution 4.0 International License (http://creativecommons.org/licenses/by/4.0/), which permits unrestricted use, distribution, and reproduction in any medium, provided you give appropriate credit to the original author(s) and the source, provide a link to the Creative Commons license, and indicate if changes were made.
Authors' Affiliations
(1)
Department of Intensive Care Medicine, Inselspital, Bern University Hospital, University of Bern, Bern, Switzerland
(2)
Department of Medical Immunology, Charité University Hospital Berlin, Berlin, Germany
(3)
Department of Immunology, Labor Berlin Charité Vivantes, Berlin, Germany
(4)
University Institute of Clinical Chemistry, Inselspital, Bern University Hospital, University of Bern, Bern, Switzerland